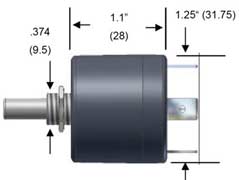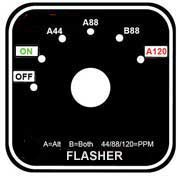 FLASHER Description
Dual Circuit 12-35 VDC, 0-10 A, Control 500 Watts In a 1-1/4 inch Diameter Package.
Flasher a Complete Compact, Light Weight, Powerful, Solid State Light Control/Flasher!
APPLICATIONS:
Experimental Aircraft landing light pulser
Emergency Vehicles
Hundreds of DC Lighting Applications
SPECIFICATIONS:

Voltage Range: 12 to 35VDC

Max Current: 10 A per Circuit

Capacity per Circuit:

120 Watts @12VDC

240 Watts @24VDC

280 Watts @28VDC

MaxPulse Function Modes:

Both CKTs Off

Both CKTs On

Alternate 44 PPM (STD)

Alternate 88 PPM

Both Flash 88 PPM

Alternate 120 PPM

Operating Temperature Range: -20° C to +50° C

Internal Temperature Protect: +85°

Storage Temperature: -40° C to +100° C

Maximum Internal Temperature: @10 A +25° C above Ambient.

Enclosure Material: Bayer FR110 resin Meets UL 94

Flame Rating: V-2 (0.03in) V-0 (0.059in) 5VB (0.098in) 5VA (0.13in)

One Year limited warranty

Weight: 1oz (28g)
Simply CLICK the PayPal logo to the left to pay by credit card.
or click here to see other Methods of Payment
Ohio Residents will pay 7.5% tax.