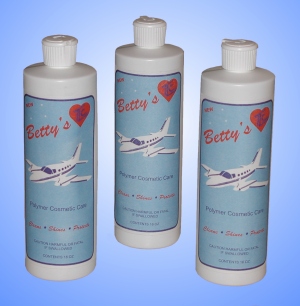 MAKE YOUR AIRCRAFT
SHINE LIKE NEW!
GREAT FOR USE ON YOUR
CANOPY,
and YOUR
PAINT.
WHY IS BETTY'S TLC SO MUCH BETTER THAN ANY OTHER POLISH OR WAX TODAY?

1.) Betty's TLC bonds to and becomes an integral part of the paint.
2.) Betty's TLC is not an organic cover-up such as wax or a Teflon coating.
3.) Betty's TLC will never leave a buildup to cause oxidation and never needs to be removed.
4.) Betty's TLC removes a certain amount of oxidation with every application because it contains a nonabrasive cleaner.
5.) Betty's TLC hardens the paint giving a natural protection that produces a fantastic shine.
6.) Betty's TLC makes your paint (as much as your paint will allow) look like a new finish.
7.) Betty's TLC works equally well on: aircraft, cars, trucks, trailers, RV's, boats, motorcycles,
ATVs, household fixtures, and all nonporous paints.
8.) Betty's TLC goes twice as far as other compounds, and lasts almost indefinitely.
9.) Betty's TLC lowers the static build-up on your canopy and fiberglass parts.

A bit about "Betty"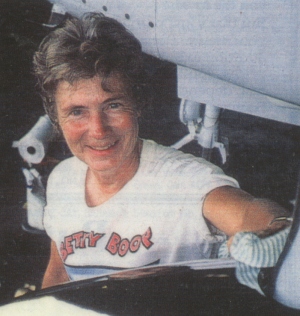 Betty Whitenack has a passion and a special knack for polishing airplanes. After all, she's been doing it for over 20 years now! She is kind of famous in the aviation community. She was mentioned on the "Paul Harvey" radio program, a few newspaper write-ups, AOPA Pilot magazine, and several others.
Betty travels in her van with her shih-tzu dog, Penny. She visits airports across the nation polishing planes. Many pilots have had her keep their planes slick and shiny for the most of those 20 plus years. Betty works in the South in the Winter and the North in the Summer. She doesn't call any one spot her home. She loves what she does and the great folks she meets in the aviation world. Her van is equipped for quick meals and comfortable nights where ever she may be, . . the airport, a campground, or any places in between.

Behind Betty's van is an enclosed trailer containing her supplies. Some of these supplies are a creeper, her special polish, rags, cleaners, and other sundry items needed to perform the polishing tasks. Oh yes, and little Penny's toys and dog food.

Betty loves flying, but her main priority is keeping the cosmetic appearance of planes slick, shiny, and looking their best. She starts on a plane in the morning, and finishes normally by 5:00 PM. All this time, Penny is strapped to the landing gear sleeping, playing with toys, greeting visitors, and relishing all the attention she gets.

Betty polishes small planes as well as corporate size aircraft. Aircraft she has done include many Experimentals, Aeronicas, Belancas, Cubs, Pitts, Great Lakes, Wacos, Cessnas (C152, C172, C182, C310, C314, C414, C421 and more), Bonanzas, Senecas, Barons, Lear Jets, Citations, King Airs, MU2s, and many others. The list just keeps growing!

Betty takes much pride in making every surface on the plane shine, especially those spinners. She'll lay on creeper to meticulously clean and polish all of the under surfaces. To polish an airplane, she only uses "Betty's TLC", a special polish formulated to accomplish the outstanding work that is acclaimed by many happy aircraft owners across this nation. Betty does not use water, wax, or even wash a plane. She does a three in one trip around the airplane that produces real pride in ownership.

In Betty's years of experience, she has learned from painters and personal experience, that wax should never be used on paint. Wax actually acts as a magnifying glass to the sun and begins the oxidation process. Each new coat of wax builds up a thicker layer on the aircraft's surface. This also adds unwanted weight. At some point in the life of wax, it needs to be removed or stripped off of the plane. If the wax needs to be removed, then why put it on to begin with?

Betty cares so much about doing a great job, that she has formulated her own polish. She proudly relates that the polish contains a polymer that separates her work from all others. The surface of the airplane or vehicle will immediately tell the difference. Betty also carries a few bottles of her special polish around with her for retail, as many pilots request a bottle for doing touch-ups.

Betty began her polishing career in Arizona detailing cars. Her ultimate goal though, was to polish airplanes. It all began big time when she got a few jobs at a local airport. After that, she used her talents at other airports near her. Pilots liked her so much, that she's been doing airplane polishing ever since. The hardest part her job, was going from airport to airport with no real assurance of anything other than confidence in her own ability. She sure has a good and well known reputation now!

Betty packed up and started traveling, . . and of course doing what she does best and enjoys so much. She contends that "if you enjoy what you are doing, you will never work another day in your life." What is Betty's driving force? She says, "excellence is my goal". This is truly what Betty delivers.

Betty didn't always polish airplanes. In her 32 years of staying in Texas, she graduated from Bible Baptist Seminary in preparation for mission work, and also attended Dallas Vocational School of Nursing. She also attended Arlington Baptist Junior College and Dallas Baptist College. Betty is only a few hours of obtaining a Bachelor's degree in Psychology / Sociology. In Chattanooga, she also attended Tennessee Temple College.

Betty's other passion is her artwork. She does pastels for fun. One of her originals is hanging in Ronald Reagan's Presidential library in Simi Valley California.

When will Betty settle down and quit traveling? She said; "The thought hasn't occurred to me yet". What a special lady!

I can definitely vouch for Betty and her special polish formula!
The first time I used her polish on my plane, I was amazed. After coming back from Sun-N-Fun in Florida one year, I was cleaning up my plane. Betty just happened to be in my hanger polishing another plane. We talked awhile and she offered her expertise on my plane. I ended up buying a bottle of her special polish. I was skeptical at first because I have used other cleaners on my plane with not much success. I have some areas that are hard to clean. One of these areas is just behind the canopy where the canopy rubs on the fuselage. There is always dirt there. Another area is the canopy itself. Getting that clean and to sparkle is always problem. I used her polish on these areas first, and I'll tell you what, . . I am a believer now. You can use this polish on the entire plane and it looks GREAT! I liked it so much, that I convinced Betty to let me sell a few bottles for her on the internet. This is the first time she has offered her product here. Buy a bottle yourself and see if you aren't satisfied too. I know you will be!
Get on Betty's list!
P.S. Betty has so many repeat customers, she almost never has to advertise for business anymore,. . . BUT, . . if you would like to hire Betty to clean & shine your plane, let me know. She may be in your area soon. She has covered Florida to Michigan, and even states from here out to California. She's good, and definitely an expert in aircraft restoration!
To pay by PayPal or Credit Card, simply CLICK
the appropriate "Shipping Option" and then, "Add to Cart",
or click here to see other Methods of Payment
Ohio Residents please add in 7.50% tax.