We have received many inquiries to develop a replacement inverter for the Bonanza Aircraft. This inverter is NOT PMA or FAA approved, but it will drive the older Bonanza 400Hz panel lighting.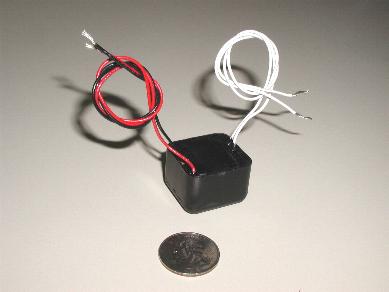 The Bonanza inverter is similar to this smaller inverter pictured.
SPECIFICATIONS:
Dimensions:
1.5" x 1.5" x 1"
Input:
+12Vdc to +14Vdc power bus
Output:
115Vac at 400Hz
Will drive up to 100sq. in. of Electroluminescent lighting.
Can you dim this type of inverter?
Yes! You can accomplish this in the same manner that you do for ordinary panel lights. Just run the output of a dimmer pot into the inverter. By varying the input voltage, you will be able to vary the output voltage.
To pay by PayPal or Credit Card, simply CLICK
the appropriate "Shipping Option" and then, "Add to Cart",
or click here to see other Methods of Payment
Ohio Residents please add in 7.50% tax.